Geesteren (Ov): St. Pancratius (J. Stuyt, 1925-1926)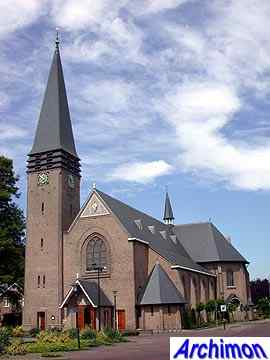 The current St. Pancratius of Geesteren was built to replace an earlier church built in 1820. Architect Jan Stuyt designed the church in a combination of styles, mixing neo-Gothic with Traditionalism. It's a three-aisled pseudo-basilica with polygonal transept-arms and choir. In the corners between transept and choir are lateral chapels. There's a polygonal baptistery in the corner between the front of the nave. At the other side of the front is the tower, which has a remarkable spire with louvres.
The church is entirely covered with brick vaults, yet it has only modest buttresses to support them. Stuyt also designed the presbytery.