Tubbergen (Ov): St. Pancratius (A. Tepe, 1896-1897)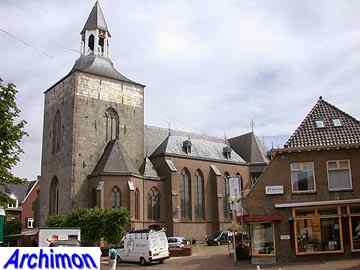 The history of the St. Pancratius of Tubbergen goes back to the late 13th century. In ca. 1276 a chapel was built which was served from Ootmarsum, the parish to which Tubbergen belonged at that time. In the 15th century the chapel was enlarged and became a church, a one-aisled building in Gothic style. In the early 16th century a tower was added, built of the Bentheimer stone often used in this region. In 1576 Tubbergen became a seperate parish.
Despite occupation by the protestants and the discrimination of catholics, Tubbergen remained mostly catholic after the Reformation. However, the church was handed to the protestant minority. When king Lodewijk Napoleon visited Twente, he learned that the church of Tubbergen was used by only 68 protestants, only a small portion of the total population of over a thousand people. The same year the church was returned to its rightful owners.
During the almost two centuries of protestant use, maintenance had been badly neglected. However, the church wasn't restored until 1826. In 1842 the upper segment of the tower as well as the spire were demolished, reducing the total height with about a third. Instead, the current spire was added.
By 1893 the church had become too small, and plans were made to replace it. Architect Alfred Tepe designed a new building in neo-Gothic style and built of brick. One thing that sets this church apart in Tepe's work is the incorporation of the old tower, which was municipal property and wasn't replaced. The configuration of the actual church is similar to that of the one in Heeten which Tepe built four years earlier. It's s a hall-church of the Westphalian type, meaning the three aisles are of equal height but the sides-aisles are narrower than the nave. Because the naves are covered with seperate roofs, with the one on the nave being distinctly higher than those on the side-aisles, the church is sometimes mistaken for a pseudo-basilica. East of the nave is the transept, which consists of two undeep polygonal arms. These are connected with polygonal chapels which flank the choir. Additional chapels flank the tower.
In 1977-1978 the tower was restored and heightened with three meters before the spire was put back on. In 2000 the church received the honorary title of Basilica Minor.