Drimmelen municipality (NB)
Municipality in the north-west of the province, founded in 1997 when the municipalities of Made en Drimmelen, Terheijden and Hooge en Lage Zwaluwe merged. At first named Made, after its administrative centre , the muncipality was later renamed after one of its smaller villages. Other places in the municipality are Blauwe Sluis, Helkant, Hooge Zwaluwe, Lage Zwaluwe, Oud-Drimmelen, Terheijden and Wagenberg.
Made
The reformed church of Made is a small, one-aisled building and for the most part was originally built as the choir of a 16th-century church. In c. 1609, during the Eighty Years War, the church was largely destroyed and only partly rebuilt afterwards. The current shape of the church dates from 1778, when the old choir was extended.
Location: Patronaatstraat 27

The catholic St. Bernardus is a three-aisled cruciform basilica, built in neo-Gothic style in c. 1870. The architect was J. Verheyen. A bit peculiar is the turret at the front, which reminds of the early neo-Gothic style.
Location: Kerkstraat 8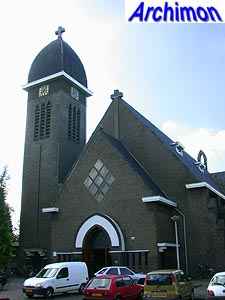 Made's second catholic church, the St. Blasius, was closed in 2007 and now contains eleven apartments. It was built in 1930 and was designed in Expressionistic style by J. Oomen.
Location: Zuideindsestraat 3
Hooge Zwaluwe
The reformed church of Hooge Zwaluwe, a centralizing church in Classical style, was designed by Jacob van Campen and built in 1639-1641.
Location: Raadhuisstraat 3
The catholic St. Willibrordus was built in 1865. It's a small one-aisled building in neo-Gothic style and was designed by an unknown architect. The small tower originally was less high; it was heightened in 1919-1920.
Location: Kerkdijk 1
Lage Zwaluwe

The old church of Lage Zwaluwe was destroyed in 1944. After the war the current St. Johannes de Doper was built, a Traditionalistic design by H.W. Valk.
Location: Plantsoen 4
The reformed church was built in 1816, although parts of a predecessor may have been used. Originally a straight one-aisled building, it was extended in 1867.
Location: Kerkstraat 49
Terheijden
The reformed church is a small building in simple neo-Classical style. It was built in 1809, nine years after the tiny protestant community had been forced to give back the old church to the catholics. The new protestant church was paid for by the government.
Location: Hoofdstraat 1
The St. Antonius Abt is a mostly 16th-century late-Gothic church, but with a neo-Gothic sacristy added by P.J.H. Cuypers, who restored the church in 1876-1878.
Location: Marktstraat 2
Wagenberg
The St. Gummarus in Wagenberg is a big, neo-Gothic church with a tall tower. The church was designed by P.J. van Genk and built in 1903-1904.
Location: Dorpsstraat 56