Demen (NB): St. Willibrorduskerk (P.J.H. Cuypers, 1857-1860)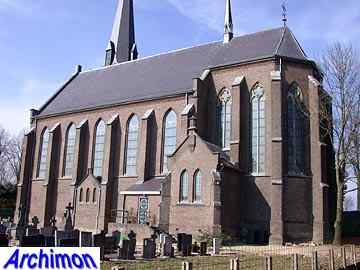 The St. Willibrordus is an early design of P.J.H. Cuypers. It's a one-aisled church with a choir with three-sided closure. The walls were built between the buttresses, which therefore are visible both on the outside and the inside. Although Cuypers already had some experience with vaults of brick, he gave this church a pointed wooden barrel-vault.
The tower, which stands at the front of the church offset to the right, is the sole remaining part of a medieval church. Of its 15th-century origins nothing is visible anymore, though. In 1890 Cuypers restored it in neo-Gothic style. It was completely covered with a new layer of bricks, heightened with one storey and given a stair-turret.