Rotterdam (ZH)
Originally a small village on a dam in the river Rotte, by the late-15th century Rotterdam had become a town of strategic and economic importance. Until 1825 its territory was restricted to a part of the current city center, but its importance as an international harbour lead to the building of new neighbourhoods as wel as annexations of neighbouring municipalities, including those on the other side of the river Nieuwe Maas. The bombing of the city by German planes on May 14th 1940 resulted in the destruction of much of the historic centre. With the exception of the old Great Church all churches in the centre were destroyed. The local government immediately took the opportunity to destroy another 144 lightly damaged historic buildings in order to fullfill their wish for a completely new city centre. After the war the centre was rebuilt in Functionalist style. Several modern churches were built. Although many old churches were lost, the local government made little effort to preserve those that did survive the war, and many important churches have been demolished especially since the 1960's.
This page is about the churches in the centre of Rotterdam and the adjacent neighbourhoods. Due to the size of Rotterdam, there are seperate pages for the annexed former villages and municipalities Overschie and Hillegersberg and for Rotterdam-Zuid, the neighbourhoods south of the river Nieuwe Maas. New pages covering the missing parts of the city will follow later.
Oorspronkelijk een klein dorpje op een dam in de rivier de Rotte, was Rotterdam eind-15e eeuw een ​​stad van strategisch en economisch belang geworden. Tot 1825 was het grondgebied beperkt tot een deel van het huidige stadscentrum, maar het belang als een internationale havenstad leidde tot de bouw van nieuwe wijken en annexaties van de naburige gemeenten, waaronder die aan de andere kant van de Nieuwe Maas. Het bombardement van de stad door Duitse vliegtuigen op 14 mei 1940 resulteerde in de grootschalige vernietiging van het historische centrum. Met uitzondering van de oude Grote Kerk werden alle kerken in het centrum vernietigd. Het stadsbestuur greep direct de kans aan om nog eens 144 lichtbeschadigde historische gebouwen te laten slopen ten behoeve van de lang gekoesterde wens van een modern stadscentrum. Na de oorlog werd het centrum herbouwd in functionalistische stijl. Diverse moderne kerken werden gebouwd. Hoewel veel oude kerken waren verloren gegaan, deed de lokale overheid weinig moeite om de resterende kerken te behouden, en vele belangrijke kerken zijn dan ook vooral sinds de jaren 1960 gesloopt.
Deze pagina gaat over de kerken in het centrum van Rotterdam en de aangrenzende wijken. Vanwege de omvang van Rotterdam zijn er aparte pagina's voor de geannexeerde voormalige dorpen en gemeenten Overschie en Hillegersberg en voor Rotterdam-Zuid, de wijken ten zuiden van de rivier de Nieuwe Maas. Nieuwe pagina's die de ontbrekende delen van de stad behandelen volgen later.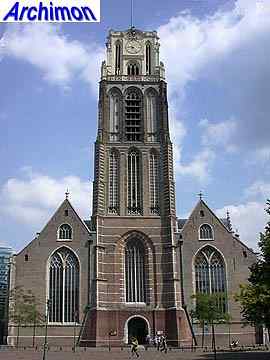 The Gothic Great Church or St. Laurens is the only old church left standing in the heart of the city that was levelled by German planes on May 14th 1940. Although badly damaged by the bombs it could be restored after the war.
Location: Grotekerkplein 27 (Centrum)
De gotische Grote Kerk of Sint Laurens is de enige oude kerk die is blijven staan ​​in het hart van de stad dat dat op 14 mei 1940 door Duitse bommenwerpers werd verwoest. Hoewel zwaar beschadigd door de bommen kon de kerk na de oorlog worden hersteld.
Locatie: Grotekerkplein 27 (Centrum)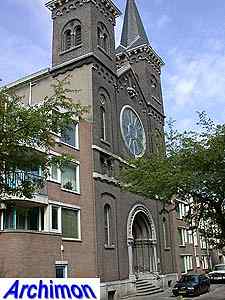 The Roman Catholic

Eendrachtskerk

, officially named H.H. Laurentius en Ignatius, dates from 1868-1871 and was designed by Belgian architect F. Laureys in neo-Romanesque style.

Location: Eendrachtsstraat 95 (Centrum)

De rooms-katholieke Eendrachtskerk, officieel H.H. Laurentius en Ignatius, dateert uit 1868-1871 en is ontworpen door de Belgische architect F. Laureys in neoromaanse stijl.

Locatie: Eendrachtsstraat 95 (Centrum)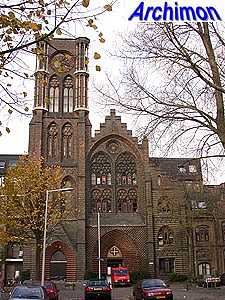 Of the Kerk van de Allerheiligste Verlosser after a fire in 1979 only the front remains. Behind it apartments were built. The church was built in 1882-1884 and was designed by J. Kayser, who mostly worked in the province of Limburg, in his typical neo-Gothic style influenced by gothic architecture in northern Germany.

Location: Goudse Rijweg 419-455 (Crooswijk)
Van de Kerk van de Allerheiligste Verlosser resteert na een brand in 1979 alleen de voorkant. Daarachter werden appartementen gebouwd. De kerk werd gebouwd in 1882-1884 en is ontworpen door J. Kayser, die voornamelijk werkzaam was in de provincie Limburg, in zijn typische neo gotische stijl die werd beïnvloed door de gotische architectuur in het noorden van Duitsland.
Locatie: Goudse Rijweg 419-455 (Crooswijk)
The St. Hildegardis is a neo-Gothic church designed by E.J. Margry and finished after his death by A.A.J. Margry and J.M. Snickers. Choir and transept were built in 1891-1892. The nave and tower were finally built in 1904-1905 and are very similar to the church the latter two architects built in Zaandam previously.

Location: Hildegardisstraat 50 (Oude Noorden)
De St. Hildegardis is een neogotische kerk ontworpen door E.J. Margry en na diens dood voltooid door A.A.J. Margry en J.M. Snickers. Koor en transept werden gebouwd in 1891-1892. Het schip en de toren werden uiteindelijk gebouwd in 1904-1905 en zijn zeer vergelijkbaar met de kerk die de laatste twee genoemde architecten eerder in Zaandam bouwden.
Locatie: Hildegardisstraat 50 (Oude Noorden)

The
Remonstrant church
was built in 1897 and was designed by H. Evers in a combination of styles, one of which is Jugendstil.
Location: Museumpark 3 (Centrum)

De Remonstrantse kerk werd gebouwd in 1897 en is ontworpen door H. Evers in een combinatie van stijlen, waaronder Jugendstil.

Locatie: Museumpark 3 (Centrum)
The
H.H. Laurentius en Elisabeth
was built as a Roman Catholic parish church in 1907, but became the cathedral of the diocese of Rotterdam when it was founded in 1956. Local architect P.G. Buskens designed the church in neo-Romanesque style. At first only the choir, transept and nave were built; the front with the two towers was constructed from 1920 until 1922.
Location: Mathenesserlaan 305 (Middelland)

De H.H. Laurentius en Elisabeth werd gebouwd als een rooms-katholieke parochiekerk in 1907, maar werd de kathedraal van het bisdom Rotterdam toen dit in 1956 werd opgericht. Lokale architect P.G. Buskens ontwierp de kerk in neoromaanse stijl. In eerste instantie werden alleen het koor, transept en schip gebouwd ; de voorzijde met de twee torens werd in 1920-1922 toegevoegd.

Locatie : Mathenesserlaan 305 (Middelland)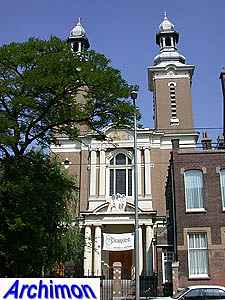 The neo-Baroque

Paradijskerk

is the church of the Old-Catholic parish H.H. Petrus en Paulus. It was designed by architect P.A. Weeldenburg and completed in 1910.
Location: Nieuwe Binnenweg 25 (Centrum)

De neobarokke Paradijskerk is de kerk van de Oud-Katholieke parochie H.H. Petrus en Paulus. Het gebouw werd ontworpen door architect P. A. Weeldenburg en werd in 1910 voltooid.

Locatie : Nieuwe Binnenweg 25 (Centrum)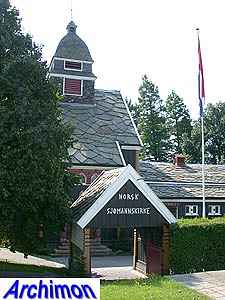 The
Norwegian church
was built in 1914 to accomodate Norwegian sailors. This largest wooden building of The Netherlands is a copy of a 16th-century Norwegian village church. The church was originally built ca. 170 metres to the west but was moved to the current location in 1937.

Location: Drooglever Fortuynplein 2

De Noorse kerk werd gebouwd in 1914 ten behoeve van Noorse zeelieden. Dit grootste houten gebouw van Nederland is een kopie van een 16e-eeuws Noorse dorpskerk. De kerk werd oorspronkelijk gebouwd ca. 170 meter ten westen van de huidige locatie, waarnaar het gebouw in 1937 werd verplaatst.

Locatie: Drooglever Fortuynplein 2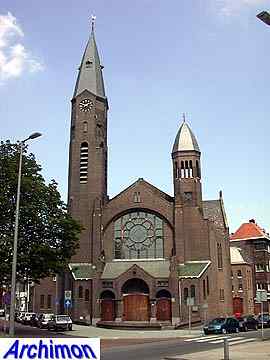 The Bergsingelkerk was designed by Tj. Kuipers for the protestant Gereformeerden denomination. It was built in 1914-1915. Kuipers used the available space as optimal as possible by using a tapered ground-plan. The two towers give the church a monumental appearance.

Location: Bergsingel 150

De Bergsingelkerk werd ontworpen door Tj. Kuipers voor de gereformeerden en werd gebouwd in 1914-1915. Kuipers gebruikt de beschikbare ruimte zo optimaal mogelijk door een taps toelopende plattegrond te gebruiken. De twee torens geven de kerk een monumentale uitstraling.

Locatie: Bergsingel 150
The
Walloon church
was built in 1923-1924. It was designed in Traditional style by architects J. Verheul and J. Wijngaarden.
Location: Schiedamsevest 190

De Waalse kerk werd gebouwd in 1923-1924 en werd ontworpen in traditionalistische stijl door de architecten J. Verheul en J. Wijngaarden.

Locatie: Schiedamsevest 190
The catholic H. Familiekerk was built in 1925-1927 in a simple Expressionist style. It was designed by J.Th.J. Cuypers and P. Cuypers jr..

Location: Nootdorpstraat 4
De katholieke H. Familiekerk werd gebouwd in 1925-1927 in een eenvoudige expressionistische stijl. Zij werd ontworpen door J.Th.J. Cuypers en P. Cuypers jr..
Locatie: Nootdorpstraat 4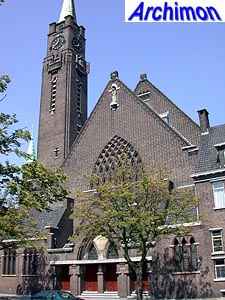 The catholic
St. Willibrordus
was designed by P.G. Buskens and built in 1928. The church is currently used by the Polish parish.

Location: Beukelsdijk 177

De katholieke St. Willibrordus werd ontworpen door P.G. Buskens en gebouwd in 1928. De kerk wordt momenteel gebruikt door de Poolse parochie.

Locatie: Beukelsdijk 177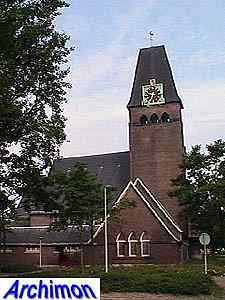 The reformed Prinsekerk was built in 1932-1933 and was designed by J.C. Meischke in a combination of Traditionalist and Expressionist styles.
Location: Schepenstraat 71
De hervormde Prinsekerk werd gebouwd in 1932-1933 en is ontworpen door J.C. Meischke in een combinatie van traditionalistische en expressionistische stijlen.
Locatie: Schepenstraat 71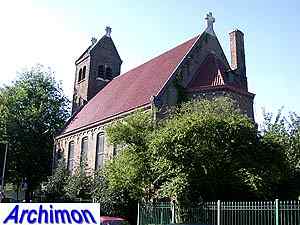 The Lutheran Andreaskerk was built in 1947-1949 and was the first church built in Rotterdam after the war, replacing a destroyed 18th-century church. It's in a Traditionalist style and was designed by B. van der Lecq.
Location: Heer Vranckestraat 51
De Lutherse Andreaskerk werd gebouwd in 1947-1949 en was de eerste kerk die na de oorlog in Rotterdam werd gebouwd. De kerk verving een verwoeste 18e eeuwse kerk en is gebouwd in een traditionalistische stijl naar een ontwerp door B. van der Lecq.
Locatie: Heer Franckstraat 51
The

Scots Church

was also built after the war to replace a destroyed predecessor. There had been a Scottish church in Rotterdam ever since the 17th century. This modest building in Traditionalistic style was designed by architect M.C.A. Meischke and built in 1951-1952.
Location: Schiedamsevest 121

Ook de Schotse kerk werd na de oorlog gebouwd ter vervanging van een verwoeste voorganger. Er was al sinds de 17e eeuw een Schotse kerk in Rotterdam. Het huidige bescheiden gebouw in traditionalistische stijl werd ontworpen door architect M.C.A. Meischke en is gebouwd in 1951-1952.

Locatie: Schiedamsevest 121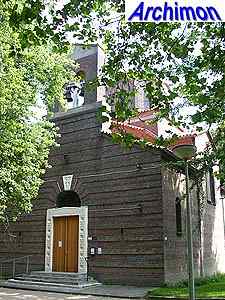 The Greek-Orthodox church Agios Nikólaos was built in 1954. It was designed by architects De Jong, Taen and Nix in a Traditionalist style with major Byzantine influences, like an octagonal tower on the crossing.
Location: Westzeedijk 333
De Grieks-orthodoxe kerk Agios Nikólaos is gebouwd in 1954. De kerk werd ontworpen door architectenbureau De Jong, Taen en Nix in een Traditionalistische stijl met grote Byzantijnse invloeden, zoals de achthoekige vieringtoren.
Locatie: Westzeedijk 333